---
We've reported previously several times on ANP that if the globalist pedophile ring which revolved around Jeffrey Epstein and which could include Bill Clinton and a number of prominent US politicans was about to come crashing down, these politicians and other 'bigwigs' with global ties would use one of their foreign nation pawns to help launch a major war in an attempt to get themselves out of the mess they are in and with tensions with Iran now approaching an all-time high, we're not the least bit surprised that is happening at a time when what might be the biggest political scandal in US history is unfolding.
(Article by Stefan Stanford republished from AllNewsPipeline.com)
As the Organic Prepper reported in this recent story titled "These Prominent People Must Be PANICKING About What the Epstein Case Will Reveal", "Some of you may be wondering why a preparedness website is publishing articles about Epstein. There are several reasons we have decided to report on this horrifying case. One is that current events matter when it comes to preparedness. It is possible that eventually, many prominent world leaders and public figures will be implicated in this scandal. This could cause chaos and rioting." Imagine what Democrats might do should 'Bill and Hill' be among them.
And while Steve Quayle had left an SQnote while linking to their story warning "the real puppet masters will throw some of their own to the the wolves to keep their existence hidden", we'll take Steve's warning a step further and propose: "the real puppet masters will throw THE ENTIRE WORLD to the wolves to keep their existence hidden".
So we'll take a look within this ANP story at the latest stories indicating the world may be heading towards a devastating war while reminding everybody of this April of 2018 Washington Free Beacon story in which expert witnesses to Congress had testified that Iran has a hidden sleeper cell network all across the America, some possibly here for 20 years or more, ready to attack our nation. We'll also remind you that some experts believe that Iran already has a nuclear weapon as explored more below. And in the final section below, we'll take a look at some last minute war prepping with the clock ticking down towards WW3.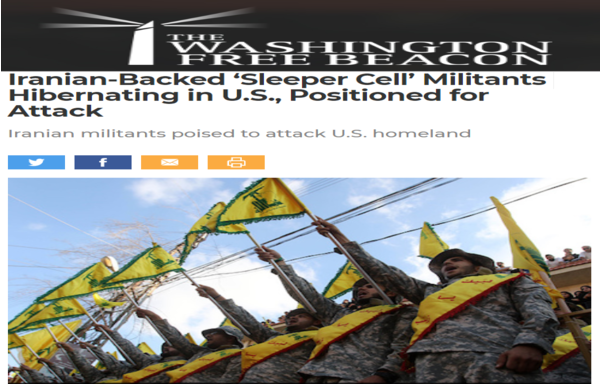 First of all, let's take a quick look below at the long opening paragraph from this new story by Michael Snyder over at the Economic Collapse Blog titled "Peace Is About To Be Taken From The Earth, And World War 3 Could Literally Start At Any Moment" within which Snyder warns that most Americans are totally unaware of impending doom at our doorsteps.
When you read Snyder's opening below, please keep in mind this April 2018 Adam Kredo story titled "Iranian-Backed 'Sleeper Cell' Militants Hibernating in U.S., Positioned for Attack". War with Iran could turn the whole world to fire.
Why aren't more Americans concerned that we could be on the verge of an apocalyptic war with Iran? If there was still any doubt, what happened on Friday made it exceedingly clear that we are literally on the brink of seeing World War 3 erupt in the Middle East. And as I detailed yesterday, a war with Iran wouldn't be anything like our wars in Iraq and Afghanistan. If the American people truly understood what a war with Iran would be like, there would be millions of protesters in front of the White House right now trying to stop it from happening. Without a doubt, the Iranian government is deeply evil, but the Iranians also possess weapons of mass destruction and they control a vast global terror network unlike anything the world has ever seen before. A full-blown war with Iran would be the stuff that nightmares are made out of, and it would unleash death and destruction on an unimaginable scale all over the planet. Perhaps it is already too late to stop what is going to happen, but I very much hope that is not true.
As we had reported on ANP back on June 14th in this story titled "As Middle East Heats Up To The Boiling Point, Expert Warns Terror Attacks By Iranian Sleeper Cells Embedded Across America Could 'End Our Freedom Of Movement', For YEARS!", should war against Iran begin, one of the very first moves that Iran could take would be unleashing their terror cells embedded across America for potentially decades with one expert warning targets could be our critical infrastructure including our electrical grid, gas and oil processing facilities, gas stations, sporting events, music concerts, shopping malls, grocery stores and eventually spilling into open bloodshed in the streets. As he had also warned, such a scenario could end Americans freedom of movement for years.
Their story also mentions the kind of pain that will likely come to America should war with Iran break out in the form of terrorist attacks upon either soft targets such as malls in America or amusement parks, not to mention the very real possibility that other potential targets of sleeper cells could be our infrastructure, with the worst potential outcome being a series of co-ordinated attacks upon the electrical grid that could knock out the power nationwide or to large regions. 
Any conflict would spill over onto the streets of mainland USA with multiple terror attacks. He added: "Iran will undoubtedly use terrorism to strike the US if push came to shove. 
"It's easy to be brave NOW, but the US isn't under attack. If a real war happened, we would have MULTIPLE Shiite attacks on targets like Times Square, Mall of the Americas, Disneyland…. You get the idea. So does Iran. So does Hezbollah." 
And then their source alluded to something that most Americans would call an absolute nightmare.

Read more at: AllNewsPipeline.com
Submit a correction >>